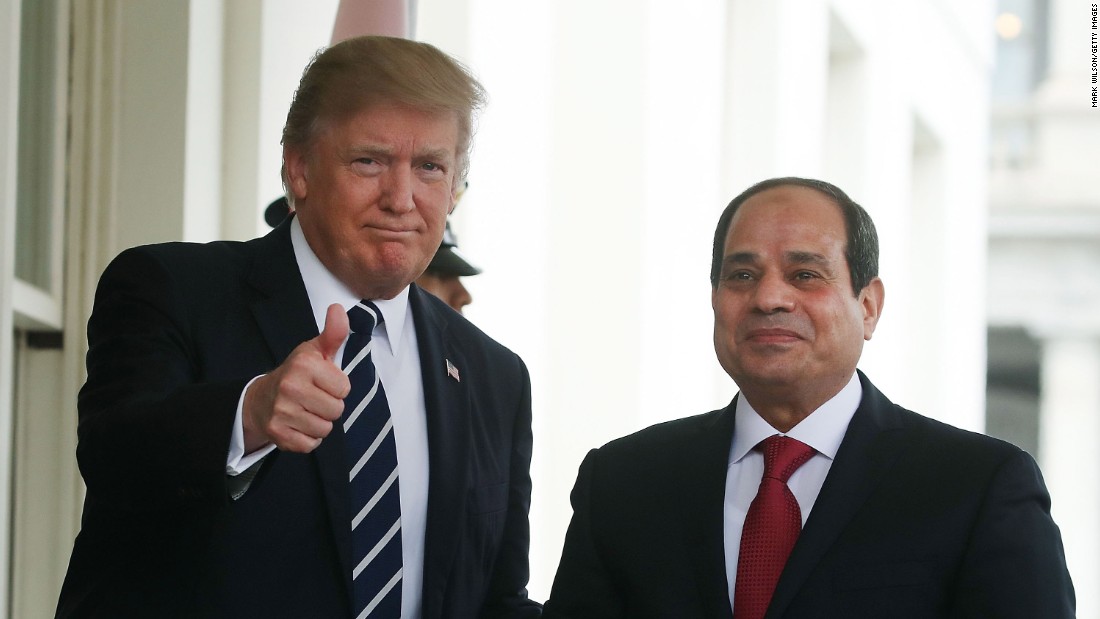 (CNN)Leaders of repressive governments, like Egypt's and China's, have long braced themselves for bilateral visits with American presidents and Cabinet officials, because they know they will be hearing about human rights and freedom of speech.
They have to worry about protests, about the response from civil society and the uncensored press. This fear has long given American leaders of both parties the leverage to send a strong message to foreign leaders in support of our values.
Not anymore.
This week President Donald Trump is hosting two very different presidents — Abdel Fattah el-Sisi of Egypt and Xi Jinping of China — with two things in common. They govern countries that stifle human rights and freedom of expression, and they have apparently persuaded the Trump team not to talk about it.
Every president has a view of how to use power. Most understand the uses of diplomacy to make progress, to set an example, to hold other countries to a higher standard. It is always a tough balance: How hard to push an authoritarian country on values like free speech or gender equality, for example, if it risks undermining a partnership in another important area, like ending a war or fighting ISIS or pushing North Korea.
Some give Trump credit for being tough, for resetting our priorities. They are missing the point.
No one disagrees with Trump's stated aim of destroying ISIS. Even before he took office, American military on the ground, working alongside Iraqi fighters, had already made significant progress pushing back ISIS.
We know what Sisi got out of his visit. A validating photo op with the American President after years of being held away. "He's done a fantastic job in a very difficult situation," Trump told reporters. But what did the United States get in return? What did Egypt agree to do differently in exchange for the United States not raising issues around human rights and freedom of speech this time around?
The only thing we know for sure is that Sisi is on his way back to Egypt, happily dictating the success of his visit to the state-run media back at home.
And the week isn't over.
President Xi arrives at Mar-a-Lago on Thursday for a two-day visit focused on North Korea and economic power, issues that most Democrats and Republicans would agree are among the most challenging we face.
Trump kicked off the week with a bellicose interview with the Financial Times, in which he stated, "China will either decide to help us with North Korea, or they won't. And if they do, that will be very good for China, and if they don't, it won't be good for anyone."
So what should we expect to come out of the visit? Absolutely nothing.
My bet is they are already working on a joint statement that will affirm a shared commitment to addressing the threat of North Korea. And planning to share a walk around Mar-a-Lago, a nice dinner and photo-op and pledge to continue to strengthen the working relationship between the United States and China.
If raised, the Chinese will likely make the case that secondary sanctions would be damaging and that they cannot afford to have an unstable Korean peninsula. Xi and his team will come to Mar-a-Lago with a strategy for avoiding conflict and unpredictable developments, for convincing Trump that he should tone down his rhetoric and rethink economic pressure. And he may succeed. This would not surprise.
What will likely be different is what is left off the agenda: human rights, freedom of religion and expression or even China's crackdown on Internet freedoms, which should concern any American president, but especially one who claims to be a friend of business. After watching Secretary of State Rex Tillerson travel to China without the State Department press on board and without demanding media access to meetings and formal statements, often a central part of any trip to China by a secretary of state, this also should come as no surprise.
But it is a change in United States foreign policy, not just from the Obama administration, but from decades of presidents, from Carter to Reagan to Clinton and Bush presidents who led by example, putting human rights, freedom of speech, gender equality and freedom of religion on the agenda whenever possible even when it was uncomfortable.
And what will the current President has to show for his willingness to put these issues on the back burner? Absolutely nothing.
Read more: http://www.cnn.com/2017/04/04/opinions/trump-squanders-soft-power-psaki/index.html