Cereal is impounded after antipodean rival Weet-Bix argues customers of a UK-goods shop in Christchurch may be confused
Customs officers in New Zealand have seized and impounded hundreds of boxes of the breakfast cereal Weetabix after complaints by rival cereal giant Weet-Bix that it could confuse customers.
The pallet of Weetabix about 300 boxes arrived in a container load of British goods last week, destined for the shelves of A Little Bit of Britain grocery store in Christchurch, which largely caters to British expats.
But New Zealand customs officials detained the pallet at the request of Sanitarium, which claimed the cereal infringed its trademark cereal Weet-Bix, which is a staple in many New Zealand homes.
This week, Sanitarium sent a letter to Lisa Wilson, the co-owner of A Little Bit of Britain, saying it would release her cereal shipment if she placed a sticker over the offending Weetabix label once the item was on her shelves, and blanked out the name Weetabix when she sold the cereal online.
Other British stores in the North Island have complied with Sanitariums demands, but Wilson has decided to fight the company, which she accuses of bullying her small, family-run business.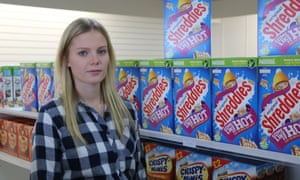 Read more: https://www.theguardian.com/world/2017/jun/30/british-weetabix-seized-by-new-zealand-customs-in-breakfast-bowl-battle-with-rival