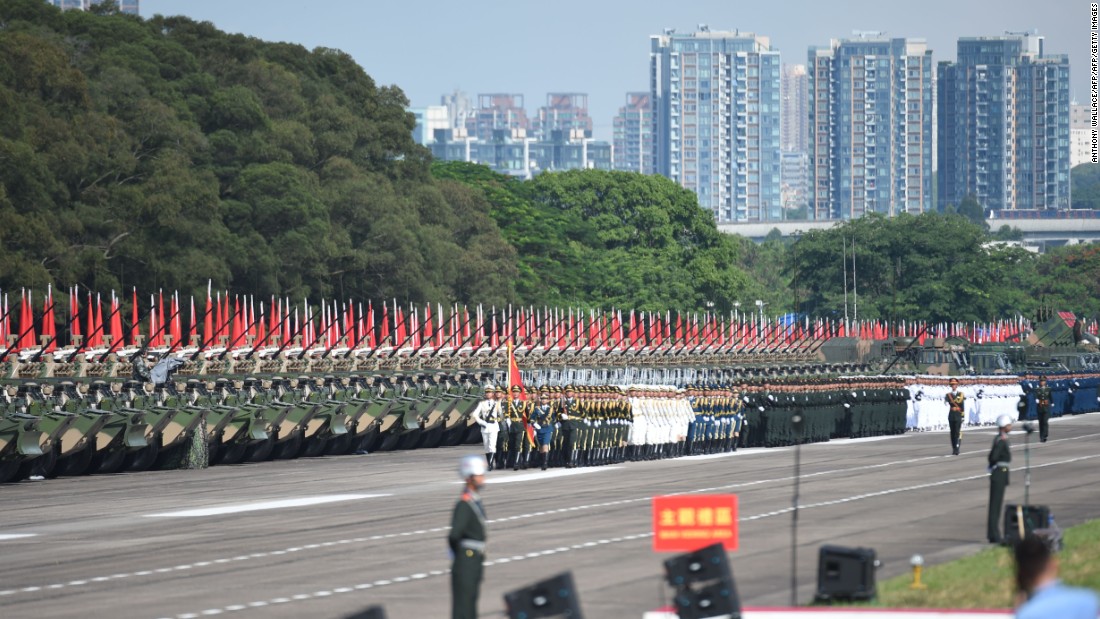 Hong Kong (CNN)Hong Kong protest leader Joshua Wong and other pro-democracy activists were released from custody Friday, after being arrested for storming a key ceremonial site as the city hosts the Chinese President.
Wong and 25 other protesters occupied Golden Bauhinia Square on Wednesday evening, where President Xi Jinping is expected to attend an official flag raising ceremony this weekend.
Police said the protesters were charged with public nuisances offenses and were placed on bail until late September.
Xi arrived in Hong Kong Thursday to mark two decades of Chinese rule in the former British territory. On his arrival, he encouraged Hong Kongers to "look forward to the future."
Xi's visit comes at a tense time for Hong Kong, amid fears the city's autonomy from China, promised under a framework known as 'one country, two system' is bing eroded.
Wong, 20,
was a leader of the Umbrella Movement that spawned massive streets protests, which paralyzed much of the city in 2014.
'Pressure on Hong Kong's windpipe'
Chris Patten, Hong Kong's last British colonial governor, said that China had been pressuring Hong Kong "in all sort of ways."
"In the last few years, particularly after Xi Jinping took over, and parallel to the crackdown on dissidents in China, there has been increased pressure on Hong Kong's windpipe," Patten told CNN's Christiane Amanpour.
"You see this in attacks on the judiciary and the rule of law, interference in court cases, you see it in the atmosphere of hostility toward the independence of universities and the media."
On Friday, Xi inspected a People's Liberation Army garrison, which staged the biggest military parade in the city since 1997. Standing in an open-topped camouflaged vehicle, Xi was driven past 20 squadrons of PLA troops.
China has also dispatched its only aircraft carrier, the Liaoning, to Hong Kong as part of handover celebrations.
Xi's first day in Hong Kong was relatively peaceful as heavy security prevented anyone who may have wanted to disrupt proceedings from getting too close to the president.
Rallies held around town were mostly patriotic ones welcoming the Chinese leader with songs and flags.
Huge banners were strung over the highway Xi took to the city, welcoming him for his "official inspection" and celebrating "20 years of Hong Kong's return to the motherland."
Much of Wan Chai, a bustling business district in the city center where Xi is staying, is on partial lockdown, with 300, 2-ton barricades erected on roads around the Hong Kong Convention and Exhibition Center. The venue will host many events marking the city's handover from the UK to China.
While in Hong Kong, Xi will spend little time anywhere near the public, although his wife Peng Liyuan visited a kindergarten on Thursday afternoon.
Protests are expected later Friday outside a celebratory gala dinner at the Hong Kong Convention and Exhibition Centre. the dinner, and at a separate rally by pro-Hong Kong independence activists, who have called for their supporters to gather together and "crush Chinese colonialism."
Xi will leave the city on Saturday after attending a flag-raising ceremony to mark the 20 years since China assumed sovereignty over Hong Kong.
Attention will then turn to the annual July 1 pro-democracy march, which organizers expect to attract tens of thousands of people.
Read more: http://www.cnn.com/2017/06/29/asia/china-xi-jinping-protesters/index.html