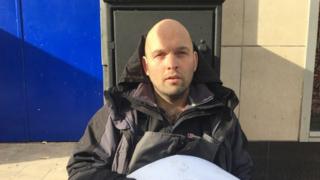 Some rough sleepers chose to stay out in freezing temperatures during Storm Emma to avoid drug users and dealers at Cardiff's hostels, some homeless people have claimed.
Thirteen people slept rough at the height of the snow despite efforts to coax them indoors, the council said.
One hostel said people sometimes tried to take drugs on its premises but staff responded with zero tolerance.
It said the pull of begging to fund drug use meant some also declined help.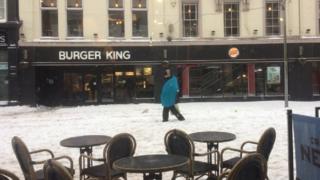 The council said its outreach workers visited the 13 people who turned down shelter late at night, providing them with foil blankets and sleeping bags and checked on them again early the following morning.
It said there was "no need to sleep rough in Cardiff" as its provision for the homeless – including 216 hostel places, 45 emergency beds, 390 supported accommodation units and 86 additional spaces during the winter – was "far safer" than remaining outside.
Chris, 32, said he had been sleeping rough in Cardiff for four months after leaving his home town of Merthyr Tydfil to get away from people he had been taking heroin with.
He said he had now been clean for 10 months – and that was why he chose not to sleep in hostels.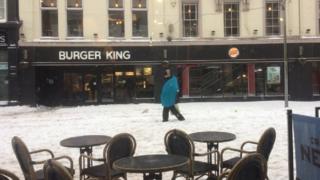 He said: "[They're] full of drugs, there can be 30 to 40 dealers there trying to sell you all sorts, spice, valium, heroin, cannabis.
"Most of the people there are there to sell drugs – I'm clean, I don't want that.
"And then there's the fighting – police [are] there all the time."
South Wales Police said its officers were "often called upon for a variety of reasons from arrest enquiries to welfare checks", adding: "The city's hostels provide shelter to vulnerable people, some with complex needs and chaotic lifestyles, so it is to be expected."
Troy, 27, from Ely, has been sleeping rough for almost a year. He took emergency floor space at a hostel during the storm: "I had no choice," he said.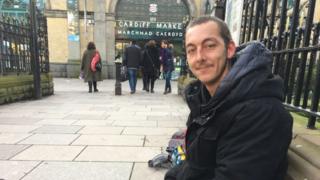 He said: "It's full of smack heads. They'll rob you when you're asleep. You can smell the spice when you're a mile away.
"There can be about six members of staff trying to deal with 50 people on drugs."
Another rough sleeper, who did not want to be named but said he was 36, said he had used accommodation during the storm but usually avoided hostels, adding "they're full of drugs".
He said he had never used drugs and did not want to mix with users.
But another man, who did not want to be named, said he was banned from a hostel after being caught smoking spice.
There is a range of accommodation available for homeless people in Cardiff run by charities including Huggard, Salvation Army, YMCA and The Wallich.
When asked why some rough sleepers declined help, Richard Laydon, deputy chief executive of charity Huggard, which runs a hostel and day centre that put on emergency floor space during the storm, said: "It's a very complex issue homelessness. People will have all sorts of different reasons for doing that.
"We have a lot of people who for example are begging… and they're doing that very often to fund a substance misuse habit. The pull of that stops people from engaging with services."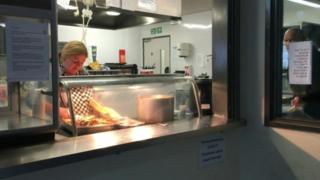 He said Huggard did not search people for drugs.
"What we don't want to do is stop people from engaging with us."
He added: "I'm sure there will be people selling drugs around the premises but we have zero tolerance for that.
"We do have occasional instances of violence but you'll see more violence or theft on St Mary Street on a Saturday night than you'll ever see here."
The Wallich said it worked hard to make sure its hostels were safe, adding: "Hostels are just one approach to a highly-complex issue, there is no one-size-fits-all solution."
The Salvation Army said, during Storm Emma, its Cardiff team found emergency accommodation for 10 people who were sleeping on the street.
A spokeswoman for Cardiff council said: "When vulnerable individuals choose to access accommodation, their complex needs and sometimes challenging behaviour are not left behind on the streets and so some hostels can seem quite busy and noisy.
"However there is a range of provision available and those sleeping rough can access services at sites away from the larger hostels.
"It is clearly far safer for individuals to come in from the cold to access the wide range of provision available across the city, and to work with professionals who can help them turn their lives around. "
In December, the council said the number of people sleeping on the city's streets had doubled in the space of a year to 74, up from 34.
Read more: http://www.bbc.co.uk/news/uk-wales-south-east-wales-43316176